Keeping the Faith during COVID-19
When we can't come TO the church, we can still BE the church!
A message from Father John Kazibwe
"Dear Epiphany Church Family Members,
May the Grace of the Lord Jesus Christ, and the Love of God, and the fellowship of the Holy Spirit be with you all! (2 Corinthians 13:14)
In these very unprecedented circumstances in our Church, I want to convey my heartfelt greetings to each and everyone of you. I am Praying for you everyday in the Holy Sacrifice of Mass that I offer to the Lord at the Altar here at the Church. I keep you dearly at my heart and in my Prayers. Above all, I miss you and your presence at the Church and in our Liturgies!
I want to assure you my sisters and brothers that we may be physically separated for now but Spiritually, we are even more united than ever in Prayer. Let us continue to pray to the Almighty God for the cure of this COVID-19 pandemic and that we may be able to gather together again at our Church soon.
As our Bishop mentioned in his letter to the Faithful of this Diocese, on March 16; "this is a time of Retreat into the desert with our Lord and to encounter God in Solitude and Prayer". Let us earnestly pray to God in our solitude and offer our suffering to Him who never leaves us alone on our journey of Faith.
Ultimately, God is in charge of this situation and it will never get out of His hands!
May God bless you all, keep you safe and strong in Faith!"
Fr. John C. Kazibwe
Pastor, Church of the Epiphany
"There's no Mass on Sunday, what do I do now?"
Sunday Morning: Mass with Bishop Knestout & Epiphany Sanctuary Hours
We encourage everyone to participate in Sunday Mass by watching this livestream from the Cathedral of the Sacred Heart with Bishop Knestout at 10 am this Sunday morning. 
Here at Epiphany, the Sanctuary will now be open on Sunday from 9am to noon. Please practice social distancing by sitting at least 6 feet away from your fellow worshipers. As requested by civil authorities and diocesan leadership, we must limit the number of persons in the Church. Only 10 people are allowed at one time.
Although we are unable to physically receive the Body and Blood of Christ, we can all make an Act of Spiritual Communion on Sunday, or any day of the week to unite ourselves with Jesus Christ using the following prayer:
My Jesus,
I believe that You
are present in the Most Holy Sacrament.
I love You above all things,
and I desire to receive You into my soul.
Since I cannot at this moment
receive You sacramentally,
come at least spiritually into my heart. I embrace You as if You were already there and unite myself wholly to You. Never permit me to be separated from You.
Amen.
"What about my child's religious education?"
Elementary Religious Ed., Edge, and Life Teen
Elementary Religious Education classes have been cancelled for the rest of the school year. We look forward to seeing you again in September!
Life Teen and Edge will meet virtually on Instagram Live this Sunday evening at our usual time of 6:45 pm. We will learn about St. Corona (Yes, she is a real Saint AND she is the Patron Saint of plagues!) and pray the Divine Mercy Chaplet together. All middle and high school youth and families are strongly encouraged to tune in! Our Epiphany Youth Ministry Instagram is @epiphany_youthministry. We hope you will join us and help keep our youth connected to their church and their Savior!
"How can I help others during this crisis?"
Spaghetti Dinner for the Homeless
Are you looking for an outreach opportunity during this outbreak?  This is an opportunity for Epiphany parishioners! When you visit the grocery store over the next two weeks, please consider picking up an item or two from the list on our Signup Genius link HERE. Epiphany will be supplying dinner to a CARITAS site at a local hotel which is housing the homeless during this COVID-19 outbreak.
We need items dropped off by noon that day.  Earlier in the week drop offs are fine.  Leave items on the Epiphany kitchen counter Mon-Fri. 9:00-4:00.  Please just drop off your items and don't go to the office. The kitchen will be checked regularly by staff.  If you can't drop off during Epiphany office hours, items can be dropped off at Tracy Brookmire's house, 2803 Stemwell Blvd, N. Chesterfield, VA  23236. There will be a cooler on the front porch where items can be left.
Thank you for your generosity!
Help us feed the homeless
"I miss coming to Eucharistic Adoration? How can I stay close to Jesus?" Eucharistic Adoration on EWTN

HERE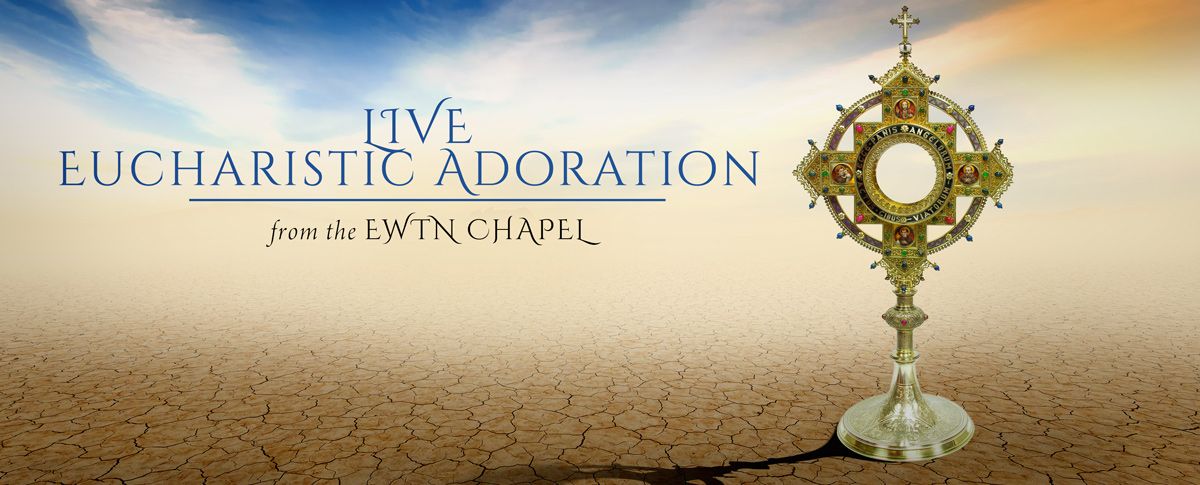 EWTN, the Eternal Word Television Network, offers live broadcasts of Eucharistic Adoration every weekday from 9am to 6pm. Click the button below or download the EWTN app on your phone or tablet to watch and pray with Jesus and other Catholics all over the world!
"How can I stay informed about what's happening at our parish and our diocese?"
Until Masses are resumed, Epiphany will not offer printed or online bulletins. However, we are continually adding new information to our parish website and Facebook pages. The Catholic Diocese of Richmond is sharing all COVID-19 related updates HERE.
If you're reading this, you've already subscribed to our email list. Good for you! If your friends and family want to sign up too, all please send them this link: https://www.epiphanychurch.org/blog/community-life-news/subscribe-to-bi-weekly-parish-email
"No Mass...no collection baskets...NO PROBLEM!"
It's easy to set up secure one-time or recurring online stewardship donations to the Church of the Epiphany by clicking the HERE. If you prefer to mail your contribution, the parish staff are still present to receive and process mail. We are deeply grateful for your support, especially during this difficult time.
We miss you and you are all in our prayers! 
Until we meet again, be safe, be well, be blessed!